Tuesday, July 18, 2006
Tenet physician and 2 nurses arrested for murder in Louisiana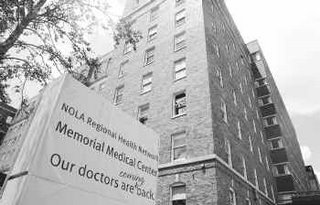 According to the state's attorney in Louisiana, a physician and two nurses euthanized four patients in LifeCare Hospitals' long-term-care unit at Tenet's 603-bed Memorial Medical Center in New Orleans in the days after Hurricane Katrina devastated that city. (
Modern Healthcare
). The three were arrested, charged with four counts of second-degree murder, and released on personal recognizance bonds.
As reported by
Associated Press
(courtesy of the
Houston Chronicle
):
Memorial Medical had been cut off by flooding after the Aug. 29 hurricane swamped New Orleans. Power was knocked out in the 317-bed hospital and the temperature inside rose over 100 degrees as the staff tried to tend to patients who waited four days to be evacuated.

In court papers, state investigators said Pou told a nurse executive three days after the hurricane that the patients still awaiting evacuation would probably not survive and that a "decision had been made to administer lethal doses" to them.

Overdoses of morphine or Versed can stop the heart and lungs.
The allegations are that the three administered lethal doses of morphine (a pain killer) and Versed (a sedative). The AP story continues: "Tammie Holley, an attorney for about a dozen families whose relatives died at Memorial, said the presence of the sedative in addition to morphine is important in determining whether the staff members intended to kill. Versed, or midazolam, is used to induce unconsciousness before surgery, according to a medical Web site. 'If it was only morphine, there would be no way to know if they were administering it to control their pain,' Holley said.
press release from the office of La. Attorney General Charles C. Foti, Jr., which includes the following statement: "I believe this case is a strong one and that these charges are based on sound legal and medical evidence. I also believe that there may be more arrests and victims that cannot be mentioned at this time and that this case is not over yet. While I am aware of the horrendous conditions that existed after Hurricane Katrina ravaged New Orleans and left so many stranded without food, water, electricity and the basic necessities, I believe that there is no excuse for intentionally killing another living human being. The fact is, the law was broken and it is my job to seek justice for the victims in this case. It gives me no pleasure to report what happened here today and my heart goes out to the families and loved ones of those victims."

no press release from Tenet (press releases are posted here), although it has been quoted as saying through a spokesman: "Euthanasia is repugnant to everything we believe as ethical health care providers, and it violates every precept of ethical behavior and the law. It is never permissible under any circumstances."
Personally, I am inclined to believe that these cases involved attempts to provide pain control and relieve suffering for dying patients who last hours in a hellish environment would otherwise have been wretched. "Double-effect euthanasia" is easy to misinterpret, since so much depends upon the intent of the health-care professional, but there are medical facts that are more or less consistent with an intent to treat, as opposed to an intent to kill, and we will have to know more of those facts before a firm opinion is possible.
The AP story addresses this through Steve Miles:
Dr. Steven Miles, a professor of medicine at the University of Minnesota's bioethics center, said that instead of trying to kill, it is more likely that those charged were trying to relieve patients' pain "in a resource-poor environment and were doing the best they could."

He said that there are documented cases where patients have required seemingly lethal morphine doses to relieve extreme pain, and that he doubts the charges will be proven. "I'm inclined to believe this was palliative sedation that's been misread," Miles said.

Mercy killings would be "not only highly frowned upon, but also rare," Miles said. "It's highly unlikely that's what happened here."
Art Caplan and Steve Miles are also quoted in a later AP story, "Ethicists: No Way to Justify Mercy Deaths" (courtesy of Newsday).
posted by Tom Mayo, 2:54 PM