Wednesday, July 26, 2006
NOLA murder arrests: further reflections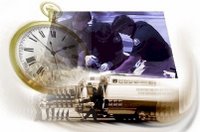 Today's
CDC Public Health Law Newsletter
has a link to a
Chicago Tribune
article that explores the ethics of triage and its applicability
vel non
to the NOLA cases previously discussed (
here
,
here
, and
here
):
"Disaster plan: Time to think unthinkable?"
Chicago Tribune (07/19/06) Ronald Kotulak

Last week, two nurses and a doctor were arrested in New Orleans on charges that they gave lethal doses of drugs to four hospital patients in the aftermath of Hurricane Katrina. The second-degree murder charges have led ethicists to begin debating what actions taken by medical personnel are permissible in similar situations, such as catastrophic weather events, deployments of weapons of mass destruction, or even widespread influenza epidemics. In such situations, medical care might be limited. "What do you do if you had no way to treat people and they were ill and there was no power and the ventilation had gone down and the machines that had kept them alive were failing? That is an astonishingly important ethical problem, given the realities we face with disaster planning," said Laurie Zoloth, director of the Center for Bioethics, Science and Society at the Northwestern University Feinberg School of Medicine. Zoloth compared such scenarios to doctors triaging wounded soldiers on the battlefield. Dr. Mark Siegler of the University of Chicago's MacLain Center for Medical Ethics said there is sometimes a fine line between giving a patient morphine for pain and a dose high enough to cause death. But Dr. Joshua Hauser, a palliative care expert, said doctors have specific guidelines to follow to avoid a morphine-related death. "There's significant consensus in the medical community that giving a dose of morphine with the intent of ending someone's life is unacceptable," he said.

posted by tommayo, 11:07 AM