Wednesday, July 12, 2006
Senate stem-cell vote set for next Tuesday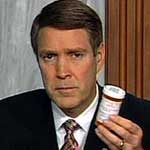 Laurie Kellman of The Washington Post has the story on the upcoming Senate vote on three stem-cell research bills, which were
first discussed here two weeks ago
:
The Senate will vote next week on three bills related to stem-cell research, including a measure that would expand federal funding for a procedure that uses and destroys human embryos in the drive to cure diseases that afflict millions of Americans [H.R. 810].

The Senate is expected to pass that bill, which would send it to the White House for President Bush's signature. Bush has promised to veto the measure, effectively killing it because neither chamber of Congress has displayed the two-thirds majority needed to override it.

That would be the end of the story, a victory for social conservatives, but for two issues: The Senate debate set to open Monday occurs late in a year of midterm elections, and polls show 70 percent of Americans support the embryonic stem cell bill.

So Senate Majority Leader Bill Frist, R-Tenn., who supports the bill and has spent a year trying to bring it to the floor, succeeded last week by promising opponents to also hold votes on two other stem cell measures they could support and Bush could sign [S.2754 and S.3504].

In a delicate election-year balancing act, Frist also will bring up a measure that would ban so-called "fetal farming," described as growing fetuses for the sole purpose of harvesting tissue. The other would fund research for stem cells derived from adults.

The House would then act quickly to pass the two non-controversial bills and all three would be sent to Bush for his signature. Bush would veto the embryonic bill and sign one or both of the others, giving him and social conservatives in Congress fresh evidence to present to voters this fall that they support stem cell research.
posted by Tom Mayo, 8:59 PM