Wednesday, July 05, 2006
Health care costs going up by 9.6%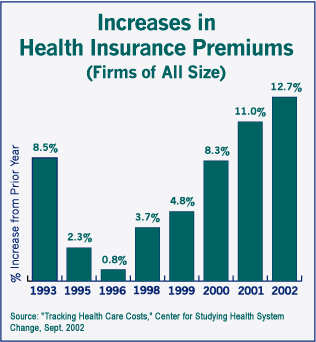 An article in today's Wall Street Journal (
click here
- link should be good for about a week) reports that "Americans should expect to pay more for medical costs whether they are employed or retired, according to two new studies. The reports, by Milliman Inc. and Watson Wyatt Worldwide, show that health-care costs are still rising at a fast pace -- despite slowing from double-digit rates in recent years -- and that businesses expect to curtail or limit retiree medical benefits."
Here's a little more detail:
The average annual medical cost for a family of four participating in a preferred provider organization, or PPO, program is up 9.6% from 2005 to $13,382 in 2006, according to Milliman, a consulting and actuarial firm that released its second annual study Thursday. Unlike other major health-care cost studies, which look at costs in terms of annual premiums or just the employer's share, the Milliman study also factors in employees' costs, including out-of-pocket expenses.
By my reckoning, even though the reported rate of increase is down a bit compared to reent years, it is still about 2.5-3 times the overall rate of inflation. The outlook for retirees is gloomier than for workers:
The vast majority of businesses are planning to curtail medical plans for current and future retirees, according to the Watson Wyatt study. The survey of 164 companies found that 14% plan to eliminate the benefit for future retirees over age 65, and 6% plan to eliminate it for their current retirees over age 65.

While most employers who still provide the coverage plan to continue it, retirees should expect to pay more for their coverage. "The good news is that they're all not jumping out. The majority are still going to provide it," says Cara Jareb, director of retiree medical consulting at Watson Wyatt. "The bad news is they will be paying more for this coverage."

Nearly two-thirds of employers expect to increase the financial contribution for future retirees, and half expect to change the design of their plans. Twenty-four percent plan to tighten eligibility for future retirees. Fidelity Investments has estimated that a 65-year-old couple retiring without employer-provided health benefits will need $200,000 for out-of-pocket health-care expenses during retirement.
Bottom line: more cost pressures on consumers of health-care services. Depending on your politics, this is either a good thing (because it provides an incentive for us to be better, savvier purchasers of health care goods and services) or not (because it pushes increasing numbers of us -- especially those in the worst position to protect themselves (low-income earners and retirees on a fixed income) -- to make tragic choices (drugs vs. food, or Drug A vs. Drug B).
posted by Tom Mayo, 8:36 AM