Sunday, September 17, 2006
From the JCT: a handy little black-letter primer on tax-exempt hospitals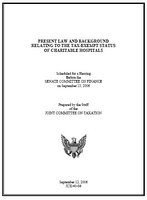 For health-law students who are struggling, or who (like mine) are planning to struggle, to understand the federal law of tax exemptions as it applies to hospitals, life just got a whole lot easier. In connection with
the Senate Finance Committee's Sept. 13 hearings
on the same subject, the staff of the Joint Committee on Taxation published "
Present Law And Background Relating To The Tax-Exempt Status Of Charitable Hospitals
(JCX-40-06)." It's almost a mile wide (there's nothing to speak of about campaign activity, for example) and an inch deep (intermediate sanctions alone could fill a small book; here it gets a paragraph). In the spirit of law students' favorite, the nutshell, however, it's a good big-picture document.
posted by tommayo, 4:03 AM