Tuesday, August 08, 2006
FDA, Barr Pharmaceuticals, reach accord over Plan B contraceptive sales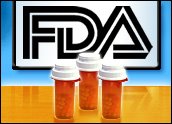 In Wednesday's paper,
the NY Times reports
that the FDA and the manufacturer of the Plan B contraceptive have reached an agreement that may lead to OTC sales (at least to customers 18 years of age and up; under-18's will still need a prescription) within weeks. The story doesn't refer to an earlier report that the FDA offered the deal to Barr last week, on the eve of hearings on the nomination of acting Commissioner Andrew C. von Eschenbach, apparently in response to
the announced opposition
of
Sen. Hillary Clinton
and other Senate Dems, who had vowed to delay a vote on the nomination until the FDA cleared its apparently unprecedented derailing of the OTC application. Pro-life groups regard the drug as an abortifacient, despite
FDA's official classification of Barr's Plan B drug as an emergency contraceptive
, so we can expect this latest development to produce the usual ripple effect of abortion politics.
posted by Tom Mayo, 10:10 PM