Thursday, June 29, 2006
Is it legal to buy off manufacturers of generic equivalents?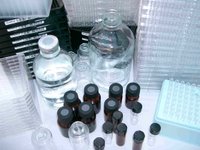 The FTC thinks it's unlawful for the manufacturer of a patented drug or device to include in the settlement of its suit against the manufacturer of a generic equivalent a cash payment in return for the generic manufacturer's pledge to withhold its product from market. [
In the Matter of Schering-Plough Corporation, Upsher-Smith Laboratories, and American Home Products Corporation
,
Docket No 9297
] The 11th Circuit disagreed. [
Schering-Plough Corp. v. FTC, No. 04-10688, March 8, 2005
] On Monday, the Supreme Court denied
cert.
[
order list
;
Docket No. 05-273
], at least in part because
the Solicitor General told the Court
that this wasn't a particularly good case to tee up the issue (according to observers like
SCOTUSBlog
and the
AP
), in part because a similar case is cooking over in the Second Circuit [from the SG's brief at 16: "Indeed, only a district court thus far has examined, and rejected, the view that a patent gives the holder merely a potential right to exclude infringing competitors from the market.
In re Ciprofloxacin Hydrochloride Antitrust Litig. (Cipro-floxacin)
, 363 F. Supp. 2d 514, 531-533 (E.D.N.Y. 2005), appeal docketed, No. 05-2851 (2d Cir. June 7, 2005). The Second Circuit may address the validity of that theory in its consideration of that case. That prospect further counsels against plenary review at this juncture."]
Meanwhile, as reported by
Modern Healthcare
, four members of the
Senate Judiciary Committee
(Republican
Chuck Grassley
(
press release
) and Democrats
Leahy
(
press release
),
Kohl
(
press release
), and
Schumer
) have introduced "[a] bill to prohibit brand name drug companies from compensating generic drug companies to delay the entry of a generic drug into the market."
See
Cong. Rec. S6560 (June 27, 2006)
;
see also
S.3582
(referred to the
Committee on Commerce, Science, and Transportation
).
This issue bears close watching. It is a terrific combination of cost-quality-access issues, as well as a good introduction to the tactics of the drug and device industries.
posted by tommayo, 4:49 PM