Wednesday, May 05, 2004
Texas Leads Nation in Percentage of Uninsured Workers.
As
reported
in today's
New York Times
, Texas leads the nation (again) in the percentage of its population without health insurance, with 27 percent. For a measure of the financial strains on health care institutions and providers in the Deep South and Southwest generally, the
national
honor roll of states with the highest percentage of uninsured includes, in order: Texas (27%), Louisiana (23%), Mississippi (22%), New Mexico (22%), Oklahoma (21%), and Nevada (21%). This graphic pretty much tells it all: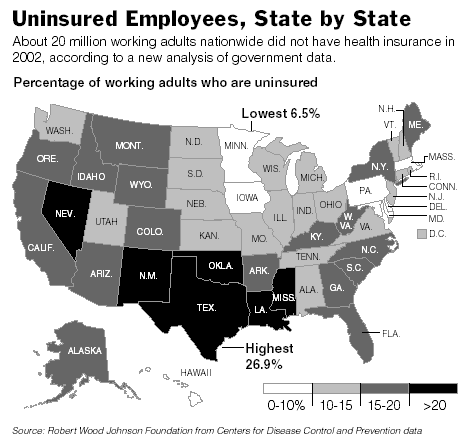 The full report (
Characteristics of the Uninsured: A View from the States (May 2003)
, from the
Robert Wood Johnson Foundation
) is
here
.
posted by tommayo, 8:51 AM